The newest Rogue One: A Star Wars Story trailer is here, and it gives Star Wars fans a glimpse into life before the original Star Wars: A New Hope. This is very exciting for Star Wars fans, because fans are able to visualize the past and connect it with the present Star Wars franchise.
Rogue One is Disney's and Lucas Film's standalone Star Wars film, that is able to give the history of Jyn Erso's (Felicity Jones) past and the origins of the Rogue call sign.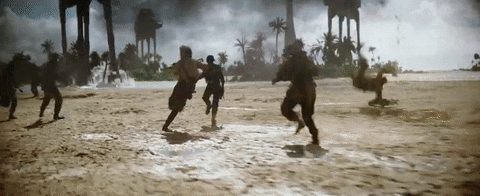 In Rogue One a rogue band of resistance fighters unite for a daring mission to steal the plans of the Empire's new weapon, the Death Star. In the newest trailer the importance of the resistance fighter's rebellion is revealed and an intense battle scene shows the depths they are willing to go to steal the Death Star. The Death Star is the Empire's ultimate weapon of destruction.
Rouge One stars Felicity Jones in the lead role, also Diego Luna, Ben Mendelsohn, Donnie Yen, Mads Mikkelsen, Alan Tudyk and Riz Ahmed, with Forest Whitaker.
Gareth Edwards best know for Godzilla and Monsters is the director of the film, and it will be in theaters December 16, 2016. From the looks of the newest trailer fans will not be disappointed with Rouge One: A Star Wars Story.