Today, it is common to come across a slasher horror movies that of course features sex crazed teens and a lunatic with a dark past killing them off one by one. Most horror fans love a good slasher film, because the suspense keeps them guessing about what will happen next and most importantly who will survive the killings.
Since it is so close to Halloween here at OVGuide we feel that it is our duty to not only showcase the original Halloween, but to briefly explain it's impact on the slasher horror film genre.
John Carpenter's Halloween (1978) is largely responsible for the popularization of the slasher films. Halloween explores different themes within the slasher genre such as the final girl (only one female survives the horror movie and lives to tell the story), sex-death connection (premarital sex and the dangers that follow) and the dark side of suburbia. The suburban setting is meant to be safe and free of the fast pace and crime of the city, but Carpenter uses this setting to corporate vulnerable and naive characters who believe no harm will come their way.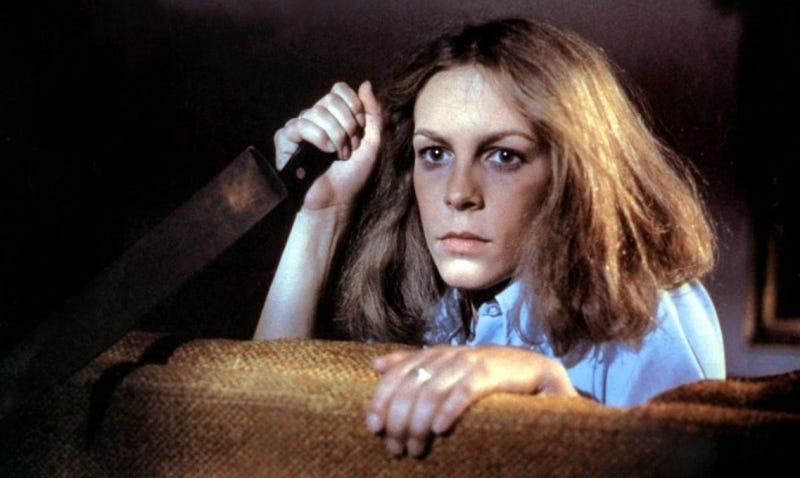 Halloween was an extremely profitable low budget independent film that made a mark in classic cinema/horror history! The themes and ideas shown in the film still provides inspirations for current and future slasher movies. You can watch the movie where it all started and catch different slasher movies that followed for free below.
Free Slasher Movies
1. Halloween (1978)


A super natural thriller inspired by actual events. When the Callahans set off for a peaceful family vacation in the mountains they never expected their personal demons to follow them. The children discover a paranormal presence in the secluded cabin and two generations of secrets are revealed, forever changing the lives of the living as well as the dead.
2. Graduation Day
After the death of a high school track star during a race, a mysterious, fencing mask-wearing killer begins murdering students and teachers. As the bodies pile up a mystery unfolds, slowly revealing itself as it moves towards its bloody climax.
3. The Demon


A detective uses his psychic powers to sleuth a series of grisly mutilation murders.
4. No Place Like Home
 
Twelve years after his parents mysterious death, David Stevens and his new family return home to put his dark past behind him. Soon after David's return the bloody murderers that took place twelve years earlier began once again. All the evidence point towards David, and slowly he looses the trust of everyone in town, including his new wife Mary.
5. Maniac On The Loose
A patient described as "Extremely Dangerous" has escaped from the local psychiatric hospital. Fearing that he'll lose his job if word gets out, the head of the hospital, Dr. Franklin Grimm, desperately attempts to cover up the escape. Meanwhile, there is a Maniac on the Loose.